In July 2001, I went to see Charlie and was very impressed with him. He had over 20 years experience restoring old cars, and when I asked around, I found out he had a good reputation. All he does is restorations; no insurance stuff. His personal car impressed Jay Leno at the Atlantic City Car Show, but Charlie wouldn't sell. He told me up front that he would take the car, evaluate it and let me know what he thought the cost would be. He also told me that he would not be able to do anything for at least 3 months. I was OK with that, and told him to make arrangements to have the car moved. So in August he had the car moved to his location. Over the next few months, I was introduced to Ebay. What a concept! You could find anything you wanted. My wife found a few Lincolns on Ebay, and one was close. There was a running 63 Sedan in Saugerties, NY. The auction had ended, but I was able to make a deal with the guy. So in November, I rented a truck and dolly and drove the 5 hours to pick it up. Charlie told me that the parts alone should be well worth the $2,500. By that time, he had a chance to look at the car and put together a plan of action. We decided to restore the parts car instead of grandpop's car because the parts car was in better shape.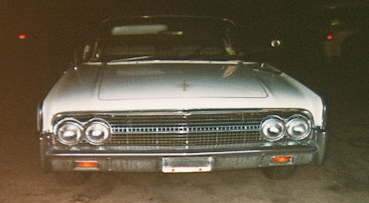 In December, Charlie told me he was moving to a larger garage on my side of town. As a result of the move, he wasn't able to start the car until January 2002. He took the car apart and sandblasted the body. There was a ton of rust, so we decided to restore the parts car. The parts car needed alot of work, but not as much as grandpop's car, so the surgery began. He painstakingly cut out all the rust and welded in newly formed parts. Basically, the entire floor pan had to be rebuilt from the gas pedal to the rear seat. He remade the bottom of the doors and welded in new sheet metal as needed on the body. The deck lid was trash, so I had to find one.
All the while, I had been searching on Ebay for parts. I'd print off a list of parts and ask Charlie if we could use it, and how much it was worth. If I got it at the price, I was happy. If it went for more than what Charlie though it was worth, I passed. As time went by, Charlie worked on the car and I amassed parts. I found a deck lid at Lincoln Land in Florida, bought weather stripping and leather for the seats from Baker's in Connecticut. Charlie finally had the body done to the point that he was ready to paint. After looking at manufacturer's paint chips and the original color chips, we found a match. In the meantime, the car was gutted. The engine and transmission were out being rebuilt, the seats and dash were in his storage garage, and I spent the entire moth of October working on 2 sets of trim. Then in November, he drops a bombshell; he's having health problems and won't be able to finish the car. He'll get the bodywork completely done, but I'll have to get someone else to put it back together. Just my luck!
I started calling friends who had cars, asking them if they knew someone who could complete the job. After talking to a few people, I got disgusted and decided to have it done right. I called Steve at Baker's and asked him for his help.
---
I pled my case to Steve and he told me he wanted to see some pictures of the car. I emailed them to him, and after he looked at the mess, he agreed to do the work. Thank God! So, on Martin Luther King Jr. Day in 2003, I borrowed my friend's truck and trailer and schlepped it the 5½ hours up to Baker's. Unloading it was fun, the car came off the trailer easily, but when the guy's asked where the rest of the car was, you should have seen their expression when I opened up the back of the truck!
Steve and his masters started to put the puzzle together. I left him some disposable cameras and he would periodically send them to me (with a bill) to show me the progress. Little by little, I could see the car coming together. A fellow Lincoln & Continental Owner's Club member who lives near me took his Lincoln up there just before the Ford Centennial in May 2003. He saw the car and snapped a few shots for me. (Thanks Bill!) Other LCOC members who stopped there left posts on the website letting me know of the progress.
Steve would call me about once or twice a month to discuss how I wanted certain things done on the car. I wanted the best of both worlds; I wanted a 100-point car that I could drive everyday. We discussed how I could get the best of both worlds and he continued to work on the car.
Finally in late August 2003, I got the call.